Why We Need Indigenous Midwives
The importance of communities having access to Indigenous midwives cannot really be emphasised enough. To gain a better understanding of what Indigenous midwifery is and why it is important, AWWA spoke to Hope Mayotte, Indigenous Midwife (Ojibwe, Bad River), Melanie Briggs, Waminda Midwife and Birthing on Country Advocate (Wodi Wodi Dharawal Gumbayngirr) and Waimarie Onekawa (Ngati Kahungunu), who generously shared their thoughts and insights on what Indigenous midwifery can provide to Indigenous communities.
Why Indigenous Midwifery is Important
Hope Mayotte, Indigenous Midwife (Ojibwe, Bad River) speaks of the "culturally informed holistic care" Indigenous midwives can offer that can help "reduce barriers, disparities and trauma that Indigenous people face due to colonization and discrimination". Hope explains that Indigenous midwives are important because "they have a deep understanding of the needs of the families and community that they serve."
Melanie Briggs (Wodi Wodi Dharawal Gumbayngirr) echoes Hope's sentiments when she states, "Indigenous women need Indigenous midwives to feel understood, heard and validated…Indigenous midwifery-led services have a profound responsibility to community, women and our future generation to ensure culture is preserved, protected and that the health of the future is not just surviving but thriving."
Waimarie's whakaaro on the topic reiterates the points made by Hope and Melanie. "Having a midwife that knows you on an intimate level and understands all the subtle nuances about you, who you are, your ways of being and your ways of knowing is going to ensure that you have better health outcomes for you and your pēpē."
Like Waimarie, Hope speaks of Indigenous midwifery leading to better health outcomes:
"In order to help heal and change the birth and health outcomes for Indigenous people, we need to change how we care for the spirits of the next generations from the time of conception through the first years of life." 
What Indigenous Midwifery Can Offer
For Indigenous midwives, Hope states, "Indigenous ways of knowing and being are at the centre of every aspect of our care." Melanie expands on this idea, outlining that Indigenous midwifery is able to offer "culturally appropriate care" and to offer "ceremony and culture into all aspects of care", with individualised practices offered in acknowledgment of the understanding that "each woman is unique and carries her own strengths and cultural ways for her to empower herself and her body."
The ceremony and culture offered can look different for each person – and that's reflective of the person-centred, culturally responsive care that Indigenous midwives can offer. For Waimarie, Indigenous practice means that "we acknowledge Māori ways of being, knowing and doing and we celebrate those in many forms. With the inclusion of waiata, karakia, oriori, rongoā Māori and any other form that you find appropriate."
Waimarie talks of the importance of including whānau "at every juncture". Likewise, Melanie outlines that "We ensure women have access to Elders, healing counsellors, Indigenous midwives"; in a similar fashion, Hope explains how "We provide safe respected space that is needed for Indigenous individuals, families, and community to receive the care that is needed to heal and create new healthy traditions."
Challenges
Unsurprisingly – although disappointingly – practising Indigenous midwifery comes with a number of challenges. For Hope, the biggest challenge is financial, with midwifery not being seen as important in the way doctors or other health professionals are seen. Additionally, Hope explains, "When working with the individuals that really need the midwifery support, the families are facing their own barriers such as ability to pay for care. As an Indigenous Midwife caring for Indigenous communities it's a battle to help reduce those barriers for others when you face them yourself." To overcome this, more support needs to be given to midwives, and the way that midwifery is seen needs to change. "It needs to be seen as a key role in creating good health outcomes in the Indigenous communities."
Melanie expands on this, explaining that, in Australia, Indigenous midwives "represent less than 2% within the Australian midwifery workforce." Given how important it is for Indigenous cultures to have access to midwives that are able to understand and affirm their needs, it is understandable that such low representation is a concern for Melanie. "There are a variety of challenges," Melanie continues, "such as access to tertiary education, colonised maternity models of care, colonised theory of Indigenous birthing, negative lens on Indigenous women and a deficit on mainstream maternity. Racism and tokenism has been a huge factor for many Indigenous midwives leaving mainstream maternity services (I am one of them)."
For Melanie, the solution in Australia is "to develop Birthing on Country models of care across the country", as well as "to embed Indigenous governance and leadership". Melanie explains that by focussing on creating healthy communities, "that will then lead to healthier pregnancies, birth outcomes and thriving communities." Additionally, Melanie sees moving towards "Indigenous-led maternity models of care that embed cultural practices and protocols to ensure the women and communities feel safe" as being a further solution to tackling some of the challenges she outlined.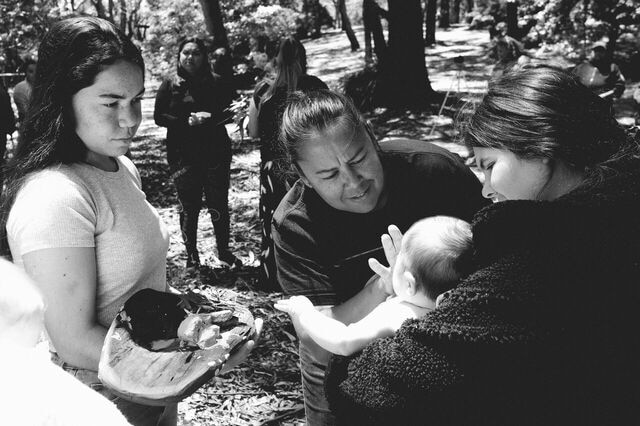 Positivity
Of course, Indigenous midwifery is a profession that is filled with positivity alongside the challenges. Whilst Melanie sees all births as unique and memorable, it was being present when her best friend gave birth to a son that made Melanie want to become a midwife. "The moment I saw him take his first breath and being with my best friend at her most vulnerable time, not only during labour but in life – I knew that there was more to our women than just giving birth – it takes a community of strong women to raise strong children and communities… This moment put me on the path of my ancestral responsibility that is to care for women and children." 
For Hope, her midwifery journey started when she became a mother. "I have six children, and with each birth that we had I grew. I grew as a mother, as a Midwife, a partner, and a community leader." As Hope learned and grew as a midwife, she was able to incorporate "more of our cultural teachings into the births." For her last birth, Hope was unassisted, with her partner delivering their daughter. "During the time he had been battling a drug addiction for around 7 years," Hope explains. "With the birth of our daughter he fully understood his importance in our family and as a father. If he had not decided he wanted to become sober I would have had our daughter alone. It was a huge reality check to him. The birth was healing, impactful, and powerful for him. The work of Indigenous Midwifery heals our people, and I've seen it with my own eyes. My partner has so much respect and love for it for that reason. He is now over 2 years sober off of opioids."
Hopes for the Future
"My hope for Indigenous Midwifery is to be put front and centre in our communities," Hope asserts. "The importance of it needs to be known to all, and be supported. Make it accessible to all, create paid positions in all Indigenous communities…We are losing our people at scary rates to drug overdoses, maternal and infant mortality, suicides, and so much more. Indigenous Midwifery has the power to support Indigenous communities and overcome it all. I have hope that the culture will be restored and our people will have strong identities and pride in our culture."
Like Hope, Melanie has strong aspirations for the future of Indigenous midwifery. "My hope is that we increase the number of Indigenous midwives in Australia," Melanie states, "implement Birthing on Country across the country, and that we create a generation of healthy well women to birth on their traditional homelands and claim their sovereign right."
Continue reading
Comments